Curtiss P-40 Warhawk
Shop men's T-shirts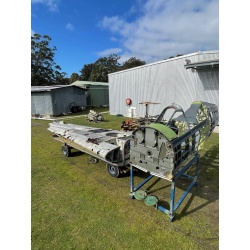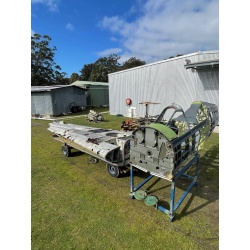 Combat veteran P-40N project
Curtiss P-40N-5 Warhawk

Project

two seat dual control combat vet with confirmed kills of Japanese aircraft.
This aircraft is available with heavier longerons and other parts to be a two seat passenger carrying or dual control aircraft.
Curtiss construction number #1316
Built in New York in 1942 and shipped to the south pacific to fight in the war against the Japanese this aircraft was known as Yellow 63 with the nose art of "Flo-II" while serving in combat in the pacific theater with the 8th Fighter squadron of the 49th fighter group USAAF.

This aircraft was piloted by
Lt Charles A Peterson
who scored
2+ kills
in the Spring 1944 in this aircraft and was promoted to Major and later became the commanding officer of 8th fighter squadron.
At some stage while in theater this aircraft was damaged and written off by the USAAF as they moved up the island chain towards Japan, subsequently the aircraft was discovered 50 years later and recovered for preservation.
Ultimately it was decided that the aircraft should be rebuilt to flying status and the rebuild was started around the year 2000 and has progressed slowly since then due to other projects taking precedence.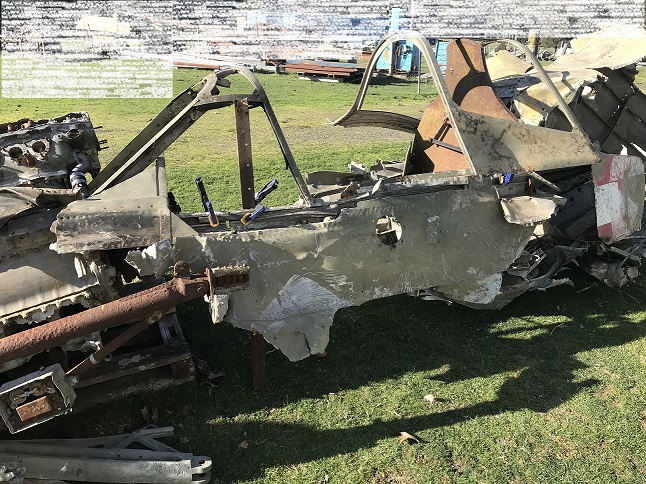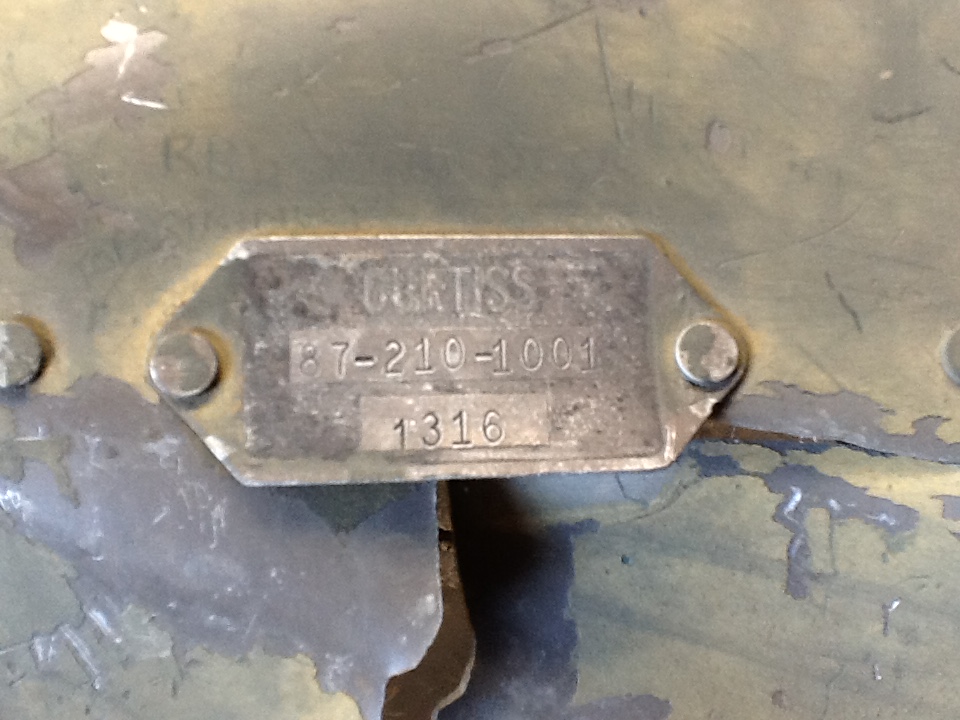 At this stage the fuselage is ready to be riveted together in the same way as an RV-6 or other simple kit plane, most of the hard work here has already been done, with the firewall and most other frames assembled.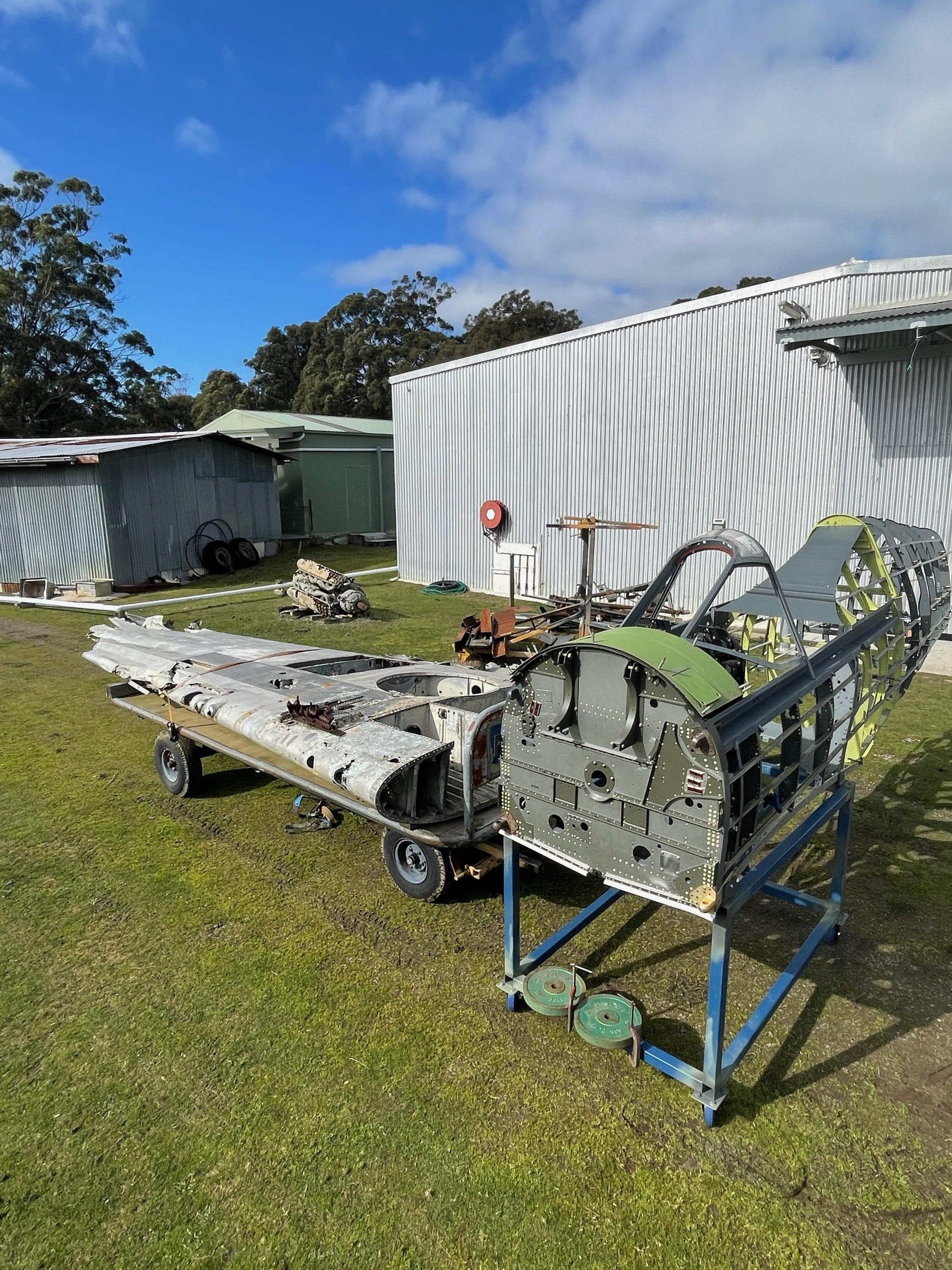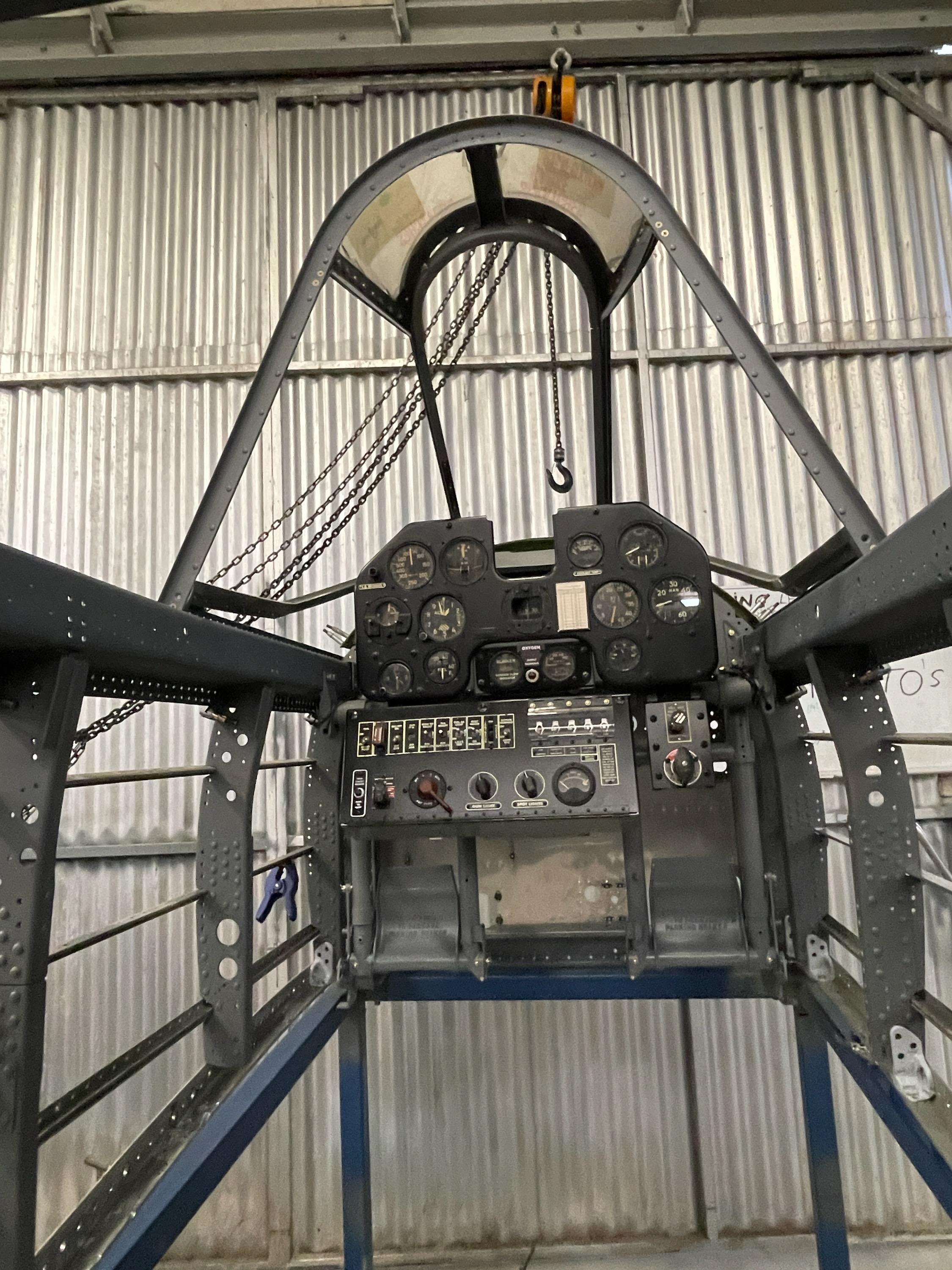 This extensive project includes many original Parts consisting of but not limited to the original wreckage which includes broken  and damaged fuselage pieces that could no longer be made airworthy, including the rear fuselage with tail, all still with the original paint, it also includes wings and many other parts.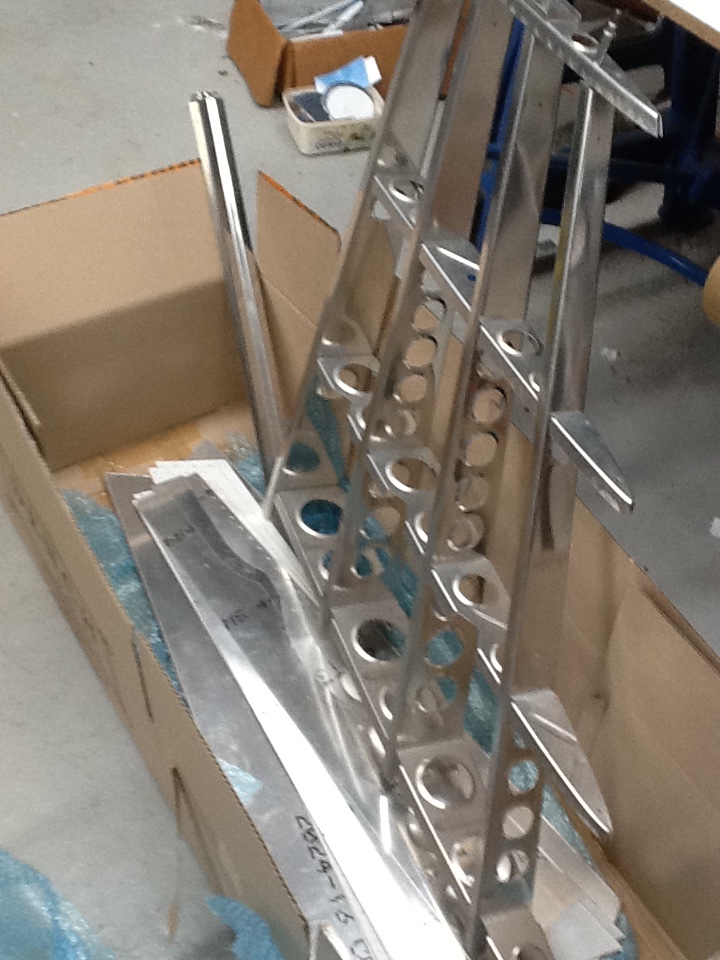 The original fuselage side windscreen section was preserved with the pilots name still being visible.
Included are also many good usable parts that are virtually unobtainable these days such as undercarriage legs and engine mounts which could be certified for flight.
Original wings, new vertical stabilizer, the complete rudder pedal setup has just been completed, the firewall has just been completed, some new extrusions are now included, etc etc
It would be impossible to individually list every part present with this project and serious buyers should inspect the project in person, however some of the many many thousands of parts that come with this projects are
:


Firewall with fittings. 87-210-1401
Fuselage Frame 1 87-210-1101
Fuselage Frame 1A 87-321-617
Fuselage Frame 2 87-21-602
Fuselage Frame 3 87-21-603
Fuselage Frame 4 87-21-604
Fuselage Frame 5 Main support frame
Fuselage Frame 6 87-210-1106
Fuselage Frame 7 87-210-1107
Fuselage Frame 8 87-210-1108
Fuselage Frame 9 87-21-609
Fuselage Frame 10 87-21-610
Fuselage Frame 11 87-21-611
Fuselage Frame 12 87-21-612
Fuselage Frame 13 87-21-613
Fuselage Frame 14 87-21-614
Fuselage Frame 15 87-21-615
Fuselage Frame 15A
Fuselage Frame 16 87-21-616
Fuselage Frame 17 87-21-952
Fuselage Frame 18 87-21-951
Upper Longerons
Lower Longerons
Tank Bay Stringers
Fuselage Stringer Curtiss style K22422 x 22 Lengths
Fuselage Stringer Tie off Brackets
Frame 1A lower Fitting 87-21-585
Frame 2 lower Fitting 87-21-184
Frame 3 lower Fitting 87-21-184
Frame 4 lower Fitting 87-21-584
Frame 5 lower Fitting 87-21-533
Cockpit front Armour Plate 87-215-1010
Cockpit Pilots Seat rear Armour Plate
Front Armour support brackets 87-21-516 LH and RH
Main Electrical Junction Box rear Fuselag8e7-550-1020
Firewall Terminal Box 87-552-1011-20
Winterization Junction Box 87-550-1020-70
Main Cockpit Electrical Switch Box 87-550-1051
Main Terminal Junction Box 87-552-1030-20
Battery and Hydraulic Pump Support 87-552-1040
External Power Recep Box
Coolant Header tank 87-440-1016
Tail Wheel Leg Mounting Fitting F13 87-21-594
Pulley Mounting Brackets F11 87-64-028
Tail Reinforcment Box 87-21-547
Frame 5 Centre block spacer 75-21-281
Frame 5 Kidney Spacers 75-21-191
Fuselage to Tail Plane fitting 75-21-129
Fuselage to Tail Plane fitting 75-21-069-1
Fuselage to Tail Plane fitting 75-21-069-2
Fuselage to Tail Plane fitting 75-21-170
Fin to Tailplane attach fitting 75-12-021
Fin to Tailplane attach fitting 75-12-022
Fin to Tailplane attach fitting 75-12-020
Fin to Tailplane attach fitting 75-12-023
Fin to Tailplane attach fitting 75-12-014
Fin Bridge fitting 75-12-013
Rudder Hinge Bracket 87-21-961-1
Spade Lug Fittings Stab 75-11-011
Spinner Bulkhead (dishpan) Cowl sup 87-42-531
Spinner Bulhead Fittings 87-29-533
Steel Lower Engine mount Tubes 87-22-515
Engine Mount Forgings 87-710-1010
Engine Bearer Tube Fittings 87-22-516 R
Engine Bearer Tube Fittings 87-22-516 L
Engine Mount Vibration Support Fitting 87-22-527-1
Engine Mount Vibration Support Fitting 87-22-527-2
Engine Mount Vibration Support Fitting 87-22-527-3
Engine Mount Vibration Support Fitting 87-22-527-4
Engine Mount Diagonal Brace 87-22-517-1 x 2
Original Engine Exhaust Shrouds
Chin Cowl Fitting 87-29-536
Hydraulic Tank 87-33-011
Hydraulic Tank Cap 87-33-012
Oil Tank Hold down Fittings
Engine Controls Support firewall 87-52-514
Cockpit Control Column 87-62-515
Control Column socket base 87-62-512
Cockpit Trim control unit 87-64-006
Trim Control unit support assem 87-64-512
Trim Chain cover
Trim Chain Set 87-64-052-18/15
Frame 10 Lower pulley Bracket 87-64-021
Tail Wheel Retract Strut 87-37-920
Hydraulic Releif Valve 87-33-069
Hydraulic U/C selectror mount 87-33-512-C
Hydraulic U/C selectror 87-33-503
Original Main U/C Legs LH and RH 87-31-910
Original Throttle
Throttle mount
Canopy Crank 87-25-571
Windscreen Block upper 87-26-532 C
Windscreen Block lower 87-26-533 C
Windscreen Frames LH and RH 87-26-517
Original Windscreen 87-250-1001
Original Fixed Canopy 87-210-1001
Original Moving Canopy 87-251-1001
Canopy Trucks x 4 87-25-555
Original Wheels 30in Type H3-159-A
Brakes LH and RH
Fin 87-12-501
Hyd Tank Access Door Doubler 87-21-650-1
Tail Wheel Strut Access Door Doubler 87-21-522
Hamilton Standard 23E50 Prop Hub Outer Hub and Dome
Curtiss Prop Power Unit
Original Coolant Header tank 87-440-1016
Coolant Header Tank Support 87-50-533 LH
Coolant Header Tank Support 87-50-533-RH
Rudder Pedal Cross Tube Assem 87-210-1028
Rudder Pedal Assem LH and RH 87-63-501
Rudder Pedal Stop LH and RH 87-64-514
Rudder Pedal Stop Bolt x 2 75-64-037
Rudder Cable Bracket 75-64-093 x 2
Fuel Drain 75-44-065
Fuel Selector Control
Fuel Tank Gauge
Fuel selector Gear Box support 87-44-513-1
Fuel selector Gear Box support 87-44-513-2
Fuel Selector Gear Box Guide 87-44-558
Cowl Flap Control 87-29-520
Cowl Flap Firewall Lever 87-29-524
Eclipse Intertia Engine Starter Type 915
FT 229 Mounting plate 87-67-896
Inspection/Signal lamp mounting plate 87-552-1038-1
Radio/Dyno Rack Mounts
Elevator Control Jackshaft 87-64-003
Elevator Jackshaft Tube cockpit 87-64-541
Elevator Jackshaft Horn cockpit 75-64-030
Stabilizer Block 75-11-019
SCR-274 Transmitter
Transmitter Rack FT-226
SCR-274 Receiver
Receiver Rack FT-220
Receiver Cockpit Control
IFF Reciever BC-966A
IFF Antenna and Base
Gun Site Base 87-69-608
Cabin Heater Chamber Assem 87-81-016-50L
Cabin Heater Chamber Assem 87-81-016-50R
Cabin Heater Control Assem 87-81-501-5
Turn Barrel LH and RH threaded 87-50-071 x 8
Tail Wheel Steering Spring Assem 75-37-076 x2
Illustrated Parts Manual P40-N AN 01-25C-4 Oct 1945
P40-N Erection and Maintenance Inst AN 01-25CN-2 Aug 1944
AAF Status card 42-105744 AC-34423 7-29-43
& more....
Wing, fuselage jigs & tooling available by negotiation.
More photographs will be made available on request for serious buyers.
Work is continuing on this project even while it is listed for sale and additional work can be performed at a negotiated rate should the purchaser choose.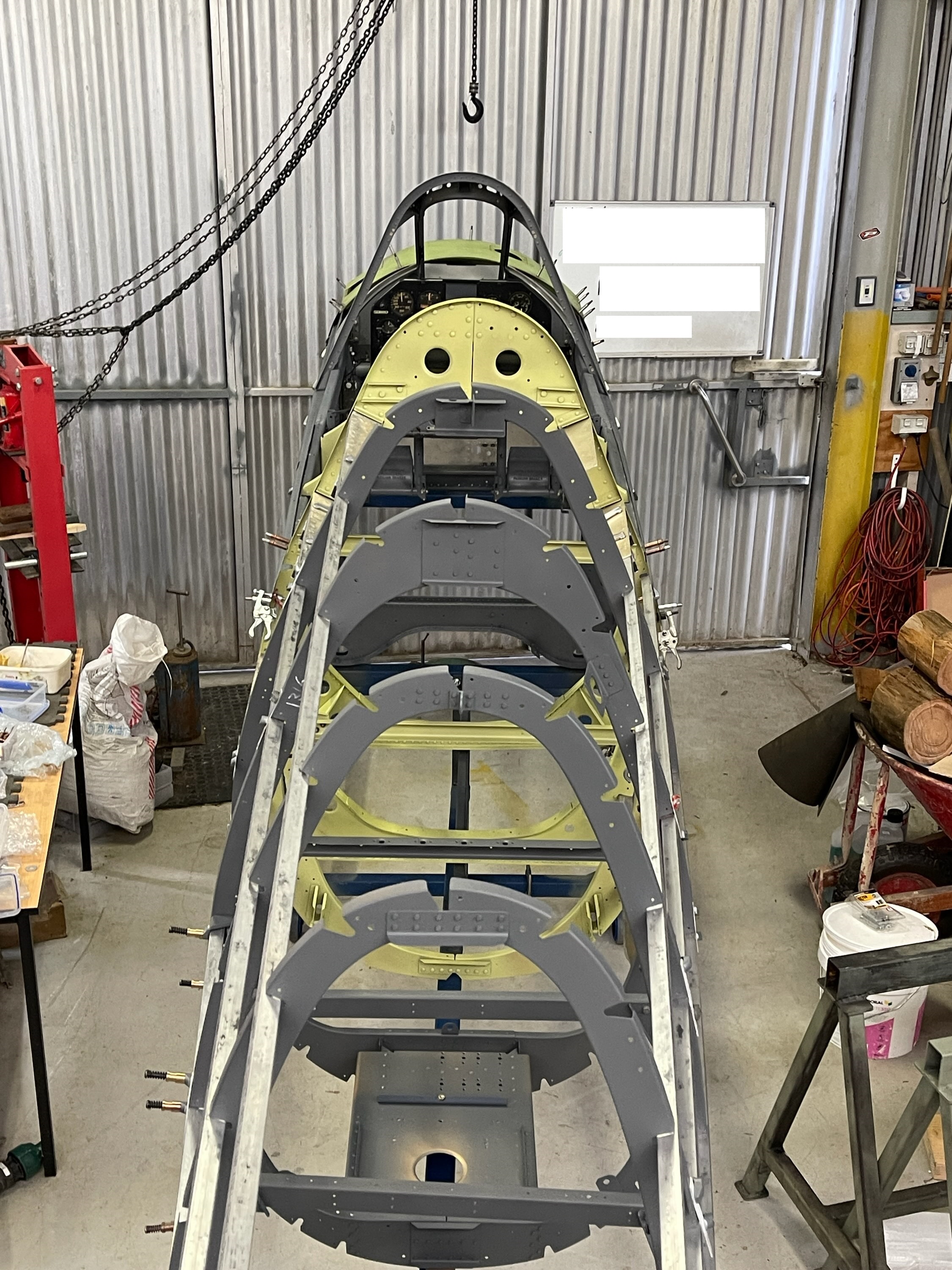 The seller will entertain progressive payments and negotiations for both additional restoration work and the purchase of the project.
$240,000 USD

at current exchange rates subject to change
Located in Australia, Worldwide shipping is available.
Interested and serious parties can arrange an inspection and go through the complete inventory by emailing admin@warbird.parts or calling +61 481 308 223.